Where Have You Been?
Here is an interesting picture:

Earlier this year, my partner and I holidayed in Dubrovnik, Croatia. This is a picture of that trip.
More exactly, its a picture of where I was during that holiday. I had set my phone to record its position every fifteen seconds or so. Then, when I was back home, I translated that data into the above image.
Every black pixel represents a point reported by my phone and we can pick out some pretty interesting features.
Firstly, the above is a zoom-in of a much larger image: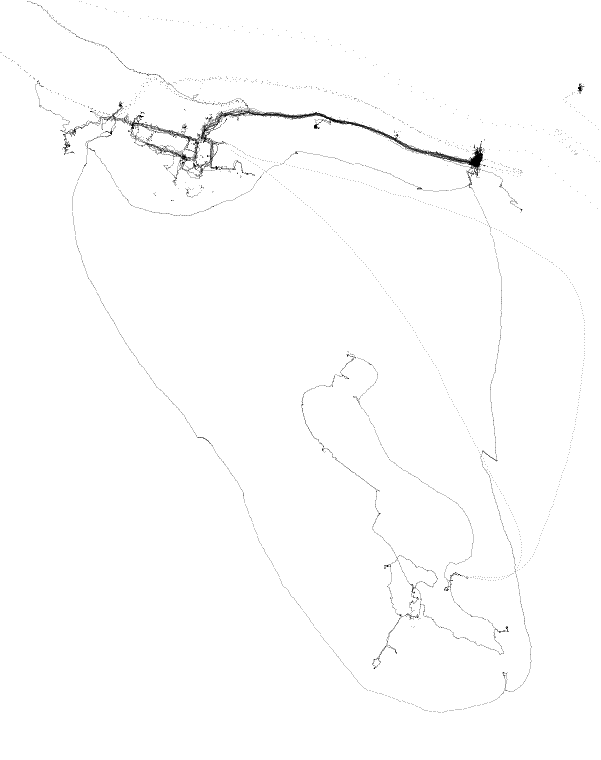 This second image shows our visit to the island of Lokrum, and the kayak trip around the island.
For reference, here's a picture of the same area, but in an actual map: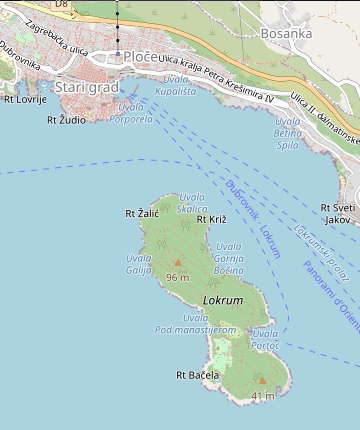 © OpenStreetMap contributors
Here's some fun/interesting observations about these pictures:
Firstly, note the large black smudge on the right hand side: this is where we were staying. GPS1 is always slightly wrong (typical accuracies are about 4m) and over time this adds up to both wonky lines (especially in built up areas) and "creep". These give the map a slightly pencil-drawn appearance, as if the author really wanted to highlight the areas we spent a lot of time, and just freehanded the rest. I could correct this by snapping to the nearest road, but I feel as if it is part of the art(?).
Secondly, it is very clear that our typical day consisted of walking from our accommodation to the Old City (Stari grad) on the left and wandering around. The main road was bizarrely empty2 and you can clearly see it, and the parallel street Od Puča.
I didn't notice it at the time, but you can clearly see the drift due to the current in our kayak trip. There were five times we paused to catch our breath (see if you can spot them) and in the two on open water we moved quite a way with the sea.
Knowing the trip, I can pick out the individual restaurants, beaches and tourist attractions we visited. You can even tell which trips were by foot/car/boat/kayak by the relative speeds (densities of dots).
Closer to Home
Since I started this project, over seven hundred days ago, I've accrued a lot of data. Most of that data, predictably, has been near my home. Obviously and unfortunately, I won't be sharing a similar image to the above for my home town to protect myself and those I love, but here are some fascinating out-takes and the things I've learned.
Bob Dylan would not call me a man. My home town has a lot of roads and I have barely walked down any of them! However, I do spend a lot of time walking/cycling to and from both my partner's house and my place of work and these routes are solid black. In fact, here is the area around my place3:

You can clearly see the nearby main road and how I seem to pick different routes onto it depending on where I am going. The criss-crossing paths through the park behind my house (which I grew to know well during lockdown) are also visible.
Here's where I do archery4:

Because I was until recently on the organising committee, you can clearly see where we set out the ropes to demarcate the range. You can also see the thick set of tracks in the middle from the shooting line to the targets to go collect our arrows, as well as the trip to the sheds to pack away the targets. Amusingly, I seem to take the same route to the range (from the bottom right) across the sports fields each time, despite there not being a path.
Finally, here's the town station:

You can clearly see that I most often head South (to London) and only occasionally North. The different routes in are either different taxis or me experimenting and trying to find the shortest walking distance.
As I said before, I wish I could share the whole image with you: it has a fascinating, eerie, vascular appearance and now lives in a picture frame on my wall. However, it's just too much personal information to blast on the internet which brings me to my final point.
A Lot of Information in Not That Much Data
Seven hundred days worth of data is a lot, but also not that much. Zipped, all the data fits in 17MB. If you were to collate this information from every person in the UK, it would fill about a thousand external hard-drives of 1TB capacity5. That may sound like a lot, but it easily fits in a half-dozen shoeboxes of hard drives (or a single milk jug of SD cards)6.
And yet, you can read a lot in this data. Apart from where and when I holidayed, you could, with enough effort, work out where I ate, what activities I did and where I stayed. My home address lights up like a beacon, but so does the place I get coffee, my friends houses and my favourite walking routes. You can infer I haven't worked out the shortest path to the station yet, and what sport I play.
This is three things: fascinating, private, and valuable. Its fascinating because one can learn so much about oneself just from where one goes; private because this is very intrinsic information that I want to be able to control access to; and valuable because it can be used to predict, monetise, and modify my behaviour.
It is well known that many organisations collect this data — indeed we give it to them in exchange for "free" services. However, it is a sobering reminder that every time you give that taxi, food delivery, or running app permission to see your location, you are giving them a lot more.